The 5 Best Baby Pillows for Flat Heads Reviewed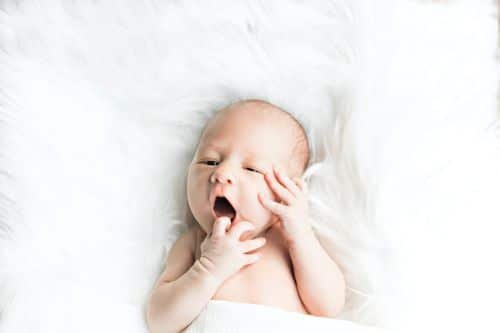 According to the UK's National Health Service, twenty percent of all babies may suffer from flat head syndrome at some point in their early development. The condition is most commonly caused by a baby spending too long on their backs. As the pressure on the head against a hard surface increases then the skull may become misshapen over time. The condition known in medical circles as plagiocephaly is more commonly referred to as flat head syndrome due to the effect it has on the baby's skull. One way to help support a child with flat head syndrome and to encourage the head to develop into a normal shape is to use pillows designed for this purpose.
Pillows for flat heads should be chosen primarily with the baby's safety in mind. They should be supple and soft while still retaining support for the head. The material should be breathable allowing heat to escape while still keeping your baby at a comfortable temperature. The products should be made to a high standard and meet regulations for use with a baby. Other factors to consider would be how easy the pillow is to clean, and how reliable the brand is. You want your pillow to be manufactured to the highest standards of quality to ensure the pillow will help reduce the baby's flat head. Here are five of the best pillows for flat heads on the market today.
Best Baby Pillows for Flat Heads
More than just a pillow, the Baby with Mama baby bed is a well-designed product that can be used from birth up till eight months. The fitted head support has been specifically designed to distribute the pressure of the skull evenly across the pillow. The baby will feel the support with the additional layer creating a doubly thick headpiece. The super-soft organic bird eye cotton cloth is a natural material that cocoons your baby in luxurious comfort.
The portable baby bed is lightweight and easy to carry with you, meaning your baby can get a good quality, relaxing sleep when you are away from home.
The designers at Baby with Mama have made a baby bed that not only prevents flat heads but is also excellent for encouraging sleep positions that help babies with poor digestion and colic. The smooth cotton material is machine washable and has been created to reduce irritation on the skin.
The leg roll is made of micro-granules and can be easily adjusted as the baby continues to grow. The gorgeous grey finish is sleek and fashionable, meaning the bed is great for the all-important baby snaps too.
No products found.
In 2005, Babymoov teamed up with the world-renowned pediatrician, Dr. Manuel Maidenberg to develop a pillow for babies with flat head syndrome. They came up with the Lovenest that has a proven track record of playing a key role in healthy skull development. The pillow has been on the market ever since because it is a popular item with excellent customer reviews.
The ergonomic design has a unique angle of incline that provides even weight distribution across the back of the baby's head and neck.
Made out of ultrasoft cotton, the breathable fabric provides good ventilation making sure the baby does not overheat. The fabric is easy to wash in the machine as well. But the fabric isn't the only excellent design feature that the Babymoov team can boast about. The compact and neat design makes this pillow ultra-versatile, and it can be used when lying down nursing, during playtime, or out and about in a baby stroller. The Babymoov Lovenest was designed specifically to help the skull to become well rounded without restricting your baby's movement. The pillow also helps to comfort and soothe your child by recreating the feeling of support they have inside the womb. Babymoov is so confident in their Lovenest pillow and its beneficial effects for your baby that they offer a lifetime guarantee with every purchase. Simply register your product within the first two months of purchase with Babymoov, and the lifetime guarantee will be in place giving you peace of mind.
The love heart shape, which gives the pillow its name, looks great and supports your child's skull perfectly. The price does not reflect the amount of love, care, and attention that Babymoov has put into this product.
No products found.
The W WelLifes Baby Pillow comes in a variety of fun patterns with a lot of adorable options to choose from. Whether you like a classical gingham blue or a stylish marble grey, there is a design to suit every baby and their other accessories or nursery decor.
W WelLife states that every product they make is made with passion, precision, and pride. This is a high standard to set themselves but their 3D Air-Mesh Baby Pillow lives up to it easily. The soft and supple pillow provides comfort to your young one while also ensuring their head is supported to promote round head development. The pillow is fantastic if you live in an area with a changeable climate as the air mesh construction keeps warm air circulating in the winter months, while cool air circulates in the summer. The air mesh design also means that the pillow will return to its original state even after prolonged use. The air mesh is very durable and has been built to survive the usual wear and tear of daily life without trouble.
Another notable feature for some babies is that the material is fully hypoallergenic, so will not trigger any nasty reactions. The organic cotton used within the product has the Global Textile Standard certification for organically farmed cotton.
W Wellife has gone beyond the usual manufacturer's guarantees by offering a risk-free order. If you are in any way dissatisfied with the product they will offer a refund, no questions asked. This promise shows you just how confident they are in their state of the art product.
No products found.
John N Tree has a reputation for high quality, and the organic cotton baby pillow is no exception. The pillow comes in a variety of cute animal shapes such as a baby lamb, bunny, or elephant. They are incredibly appealing to the eye and will perfectly frame your little child's face when posing for photographs.
They are carefully designed so that there is no printing or bleaching involved in the manufacturing process meaning there is no barrier between your baby's head and the velvety soft organic cotton finish.
John N Tree put their pillow through a strict testing process every year to ensure that the cotton used can be certified as 100% organic. The cotton can be hand washed or placed on a gentle cycle at 30 degrees.
The pillow can easily be adjusted for your baby's unique head and neck size by gently massaging out the neck support to adjust it. This makes it a great purchase for those with smaller or larger than average babies.
John N Tree is committed to customer satisfaction and will give a no questions asked refund to any customer who is not fully happy with their products. The soft padding allows the baby to freely move their head from side to side while still giving a good level of structural support. This freedom of movement makes the John N Tree an excellent option for babies that like to wriggle during their playtime.
No products found.
The Hidetex Baby Pillow is without a doubt, a uniquely innovative anti-flat head pillow. Unlike other pillows on the market that use sponge or mesh as padding, the Hidetex baby pillow utilizes viscoelastic memory foam which is both organic and highly breathable. The pillow has undergone stringent lab testing to ensure the foam will mold perfectly and evenly to your baby's head providing long-lasting comfort and stability. The memory foam cotton has slow rebound characteristics meaning it will remember your baby's head shape with repeated use.
The ergonomically designed pillow will help your child by ensuring that their spine stays in alignment while promoting healthy skull development. The neat pillow has been created to fit any bed, bouncer, pushchair, carrycot, and can be used from birth until the baby is one year old. The small hole within the pillow helps the skull shape, but also reduces hair loss as there is no friction between the pillow and the hair on the back of the head. This concave center helps your baby to keep their head in alignment with their body and allows for a more even distribution of pressure across the skull, which allows the skull to become more rounded over time.
Hidetex promises that their pillow will improve night sweating and crying. Hidetex put their money where their mouth is by backing this promise up with a hassle-free refund promise for any dissatisfied customer. A pillow that helps to improve night sweats and tears while also preventing flat head is a pillow that is a must-buy for any parent worried about their child's flat head.
No products found.