The 5 Best Flashlights for Toddlers Reviewed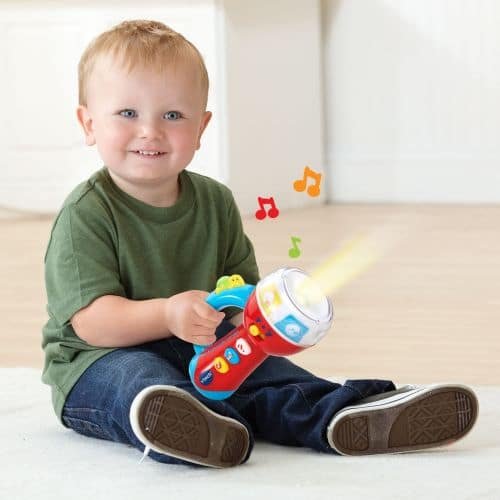 Why are flashlights good for toddlers?
Flashlights are simply one of the best toys for toddlers, they are super versatile, and will help your little ones to develop plenty of skills, from independence to imagination. These toys are also perfect to help toddlers who are afraid of the dark.
Flashlight games are ideal for kiddie sleepovers, or if your child wants to play in the dark with their teddies. Got a camping trip planned? Flashlights are a must-have for helping your child to explore the great outdoors. For toddlers who are scared when the lights go out, it can be comforting for them to have a flashlight. Whether it's investigating that 'monster-shaped' jacket, or helping when they wake up to go to the bathroom, flashlights are a fabulous toy.
How do flashlights help toddlers to learn?
Many flashlights come with special learning features, for example games or songs. With the help of these toys, your toddlers can learn plenty of new things about animals, colors, shapes, or about light and darkness. Besides this, flashlights are the perfect support tool for exploration and creative play. If you're looking for the best flashlight for toddlers, be sure to check out a few of these top picks.
Best Flashlights for Toddlers
Invite your toddlers on a superhero adventure, with this colorful and fun-flashlight.
The VTech flashlight features the characters from the 'PJ Masks' TV series, it's an action-packed animation show, (about children who turn into superheroes when they put their PJs on)!
The light includes the real voices of these awesome characters, such as Gekko, Owlette, and Catboy, plus plenty of cool sound effects. With this flashlight, your child can become a PJ superhero too, fighting off their fears of the dark.
As well as a flashlight, this toy is a great learning tool. The flashlight can support your toddler to learn colors, numbers, rhyming, and the alphabet. When your kid is bored with memorizing flashcards, this is an awesome toy to help them learn independently. The VTech flashlight also features a few games, including PJ Masks trivia games, with all their fav characters.
Turn off the lights, twist the top of the light, and be dazzled by nine different images from PJ Masks. The flashlight is suitable for ages 3-6, and you'll need 2 AAA batteries to operate it.
With so many fantastic features the VJ Tech PJ Masks light is considered one of the best flashlights for toddlers.
It's time to explore the night sky with this super cute rocket flashlight, complete with a spaceman inside.
If your toddler loves music they'll be amazed, with three music settings to take their pick of. The music is particularly helpful for children who need help getting to sleep; there are soothing lullabies, or environmental sounds, and solar wind. You can change the volume from high, low, or mute, as your child begins to drift off. After a calming lullaby, there's a countdown timer, followed by 'nightlight mode', perfect for kiddies who are afraid of the dark.
Want to help your child learn about numbers, music, and rhythm or colors? It's all simple with the help of the 'star projector'. Your child can use the interactive projector to project various images or planets, glowing stars, and numbers.
With the help of the HISTOYE Night Light, your child will memorize the names of the planets in no time. As they listen to the enchanting music and watch the sparkling stars, there's plenty of opportunity for imaginative play. As the colors and sounds stimulate their senses, they'll dream up enchanting tales, and journey to magical lands on the rocketship.
Simply pop in 3 AA batteries and you're good to go, the flashlight weighs just 8.03 ounces so it's ideal for little hands. Product guidelines suggest that it's suitable for ages 18 months and up.
The VTech Spin & Learn is a super cute and colorful flashlight, to keep your kiddies entertained for hours. Introduce your toddler to the charming animal characters from the turtle to the dog, the cat and duck.
Choose from 'play mode' or 'flashlight mode', depending on how your child wants to use their light. When in play mode, you can teach your child about opposites and lots more. Simply spin the ring, and discover a new animal, color, and sound. Want to add a little music? Tap one of the three buttons on the side of the flashlight, here there are melodies plus games, letters, and sounds from nature.
You don't need to worry about the batteries being wasted, the light will automatically shut off when it's not being played with. With a slightly bulky handle, your little one can carry the light around with no problem. Add 3 AAA batteries and let the fun times begin! Whether your child is 12 months or three years old, they are bound to have plenty of great times with this flashlight.
With such an affordable price, this one's well worth the money. Flashlights are a fantastic way to play games with your toddler, including shape tracing, or flashlight hide and seek.
Looking for the best flashlight for toddlers? Then you'll certainly want to check out this rainbow-colored bug light! Little kids are simply fascinated by the design, from the googly big eyes to the banana-like handle. For toddlers, this handle is super grippy, making it easy to take the light on plenty of adventures. The cute bug shape includes six little bug feet that help the creature to stand up on any flat surface. Whether your child wants to play inside or out, this big critter can go anywhere.
While the bug doesn't have the inbuilt games that some of the other lights do, it does the job very well, and toddlers simply love it. Simple flashlights like this are perfect for imagination-based games and exploration. Encourage your toddler to make the bug talk, ask it which objects it can light up with its huge circular beam!
Challenge your kids to explore nature, discovering real bugs under rocks, or drawing light-shapes in the air. It's tools like this that help toddlers with their independent play and encourage curiosity. For a cute toy with plenty of character, this is certainly one of the best flashlights for toddlers.
To power up your new friend you'll need 2 AA batteries. The Melissa & Doug Giddy Buggy Flashlight is recommended for ages 36 months and up.
With the 'Light Me To The Moon' flashlight, your toddler can learn about the planets and discover alien visitors from different galaxies. Children can slide in a new reel to take a look at all the awesome planets that make up our solar system. There's a compact storage space for the reels, plus a handle that's simple to grip. Using this flashlight your child can make all things bright and cosmic, letting their imagination soar.
The retailer recommends this flashlight is for ages 4+, and you'll need 2 x AAA batteries to turn it on. It's lightweight, so it's perfect for independent play, whether around the house or outside. Toddlers will love counting up the planets in the solar system, exploring the colors, and saying hello to the outer space characters.
Once your child has finished playing with the aliens, simply switch to flashlight mode, and go exploring the house in the dark. Flashlight play is the perfect way to encourage your child's creativity. The colorful design and easy usability makes this a superb flashlight for toddlers.
Children just love pretending to do 'grown-up' activities'. Make sure you show them your own flashlight and they'll be even more proud of their new toy. There are so many games you can play with a flashlight, whether it's treasure hunts in the dark or shadow puppet games. If you're looking for a sturdy light to help your kiddies learn about the planets, you'll simply love this option.
Conclusion
With plenty of great flashlight toys to choose from, parents are well and truly spoilt for choice. The best flashlight for you all depends on your child's needs and personality.
If you're looking to help your child to explore and use their imagination you might well be suited to Melissa and Doug Flashlight.Maybe your little one loves superheroes and needs support with their colors and numbers? In this case the PJ Mask flashlight is a top choice. Any of the flashlights above are just perfect for kids who need help with their fear of the dark.
Whichever option you choose, your kiddie will be so pleased to carry around their very own flashlight. There are plenty of ways to learn with these toys, whether it's light and darkness, creative play, imaginative games, sensory exploration and plenty more! For the best flashlight for a toddler, you can't go wrong with one of these picks.