The 5 Best Hair Ties For Babies Reviewed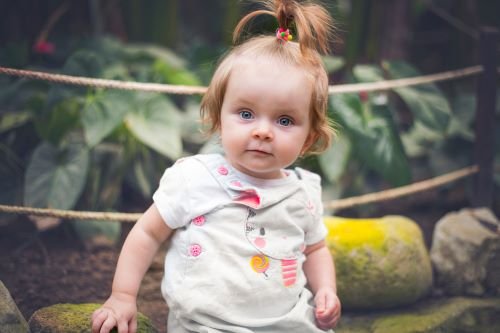 Sometimes it seems like baby hair can defy physics. Whether you take them out for a stroll in a slight breeze or they have the briefest of naps and you can have a tidal wave of fluff on your hands. Trying to pat or brush it down can make things worse as easily as it can improve the situation and, for that reason, you need a little something to help keep it down and that's where hair ties come in.
The best hair ties for babies are reliable, convenient, and, most of all safe. Here, we're going to look at a selection of five brands for ages from newborn to three years old, their benefits, drawbacks, and which one might suit your needs best.
Best Hair Ties for Babies
A set of 300 ties in 30 different colors, made using soft and high-quality fabric that's specifically designed not to break apart, stretch out, or to snap and cause any hurt. At roughly an inch in diameter, they're best suited for toddlers and especially those who love a dash of color, thanks to the bright and beautiful rainbow coloring available in the pack.
Despite not using any rubber bands, the fabric used in these hair ties is elastic enough to make sure that they have a decent amount of stretchability, durable enough to withstand a decent amount of play. Though rubber bands might be even more elastic, the fact this doesn't use them means that there's no chance of the breakages that can be caused by that much tension. They do have enough of a grip to prevent your child's hair from getting caught up in a tangle, however.
Even if they're designed for toddlers, they can still suit smaller babies well if they're tied once or twice. Add to all that the fact that you get a very decent range of thirty colors and these hair ties make for a great addition to whatever outfit you might want to match with. The fact that they're so easy to put on and made of a gentle material also means that most children are going to have no problem with you putting them on. Trying to grab them to put their hair ties on isn't going to be the same miserable experience that so many parents are familiar with.
Just like the pack of Isbasa, you're getting 300 ties with this set of hair ties for infants and toddlers, this time made with a rubber and nylon blended material that's designed to offer a no-damage hold. Just like the Ibasa pack, these ties come in a diameter of about one inch so they're just as suitable for toddlers and can just as easily be tied to make a slightly tighter tie.
These multicolored packs come in a variety of shades, including bold colors, neutrals, and dark colors. The mixture of colors is a little random each time, so you might not always get the same mix of colors, but you're definitely going to get a wide variety, meaning that you can find the perfect tie to suit all range of looks as well as hairstyles that you want. However, you will get roughly one hundred plain black ties in each pack, meaning that it's easy to keep it simple when you want.
The bands are somewhat thinner in material compared to the Ibasa option, which makes it easier to tie a nice and tight tie, but the elasticity isn't so tight that it'll cause any damage.
These slightly larger bands are perfect for toddlers who are growing in lots of hair quickly and simply won't do with tiny plastic bands any longer. Another point of convenience is that these hair ties come in a little plastic jar with its very own lid, meaning you have a nice and easy storage place to keep them for whenever you need them.
If you're looking for quality over quantity, then this set of twenty ties is going to offer you just that. These handmade ties are made with a lot of care and with gentle, soft materials that ensure that you're not going to have any ouchie moments when trying to put them on. It's a wonderfully colorful set, too, with ten pairs of each color so if you want to do matching ties on either side, it's easy enough.
The aesthetic of these ties is fantastic, to go along with the quality, too. There are well-made little bows on each tie that are hand-glued on, making them feel like a truly quality product, and helping you add a touch of cuteness to an already adorable baby.
Despite not clinging so tight as to cause any damage to their hair, these ties do have enough clinginess that they don't fall or come loose out of your child's hair easily. They're better suited to infants than some of the other options featured here but they're also great for toddlers, too. They're great for active babies, too, since they're not going to get caught up in their hair.
These elastic ties are especially well suited to kids with thick and curly hair that might suffer damage due to some of the tighter options around. For finer hair, you might need to tie the bow an additional time. Plus, they come in a charming drawstring bag that can easily be stowed away in a purse pocket for when you need to whip them out on the move.
Another one of the options that have a smaller number of ties for your baby, but in return, you're getting a set of adorable rabbit ear and regular scrunchies that come in a variety of bright and girly colors, including a whole range of shades of red, pink, and purple.
Of course, one of the biggest advantages of choosing scrunchies over a set of elastic hair ties is that the surrounding fabric that acts as a sleeve for the elastic is highly movable. It doesn't cling or cause tension on your hair, but rather protects it, which means a greater reduction in your chances of damage.
Another one of the big advantages of these scrunchies is that they're easier to grab, easier to put on, and easier to find than the average tie. While they're still designed to be small enough for toddlers and infants, they're much easier to handle. Smaller elastic hair ties might get lost pretty easily, but that's not the case with these.
If your child has finer hair or baby hair, these scrunchies will work great. The fabric covering around the band means that they can cling more tightly without exerting the kind of pressure that leads to breakages. They're well-made, too, able to keep their elasticity for months, meaning you can use them time and time again.
What's more, these scrunchies don't slip out even with finer hair. Not only are they long-lasting, but they'll stay in your child's hair (unless they decide to pull them off course), and they offer a timeless look. Overall, a great investment in hair styling.
Lastly, we're going back up to a pack that offers plenty of variety. While not quite as many as the packs from Isbaba or KK Beto, these cotton ties are soft enough and strong enough to make up for it. Their seamless design allows them to hold still in their place, but without any real risk of causing damage to your child's hair. These bands come roughly 12 colors, but those colors can vary pretty widely from pack to pack, so expect to get quite a variety.
These are slightly bigger cotton ties which means that they're not as well suited to infants, but they are great for toddlers, especially those with thin hair thanks to the thickness of the cotton. They're highly resilient, too, returning back to their original shape with ease after being stretched out. However, they don't snap enough that they're going to cause any little stings if your child tugs at them.
These are high-quality hair ties made of soft and reliable cotton, so much so that even adults with thinner hair can end up wearing them happily enough. A fantastic alternative for plastic hair ties and they grip well enough that they don't need to be twisted time and time again to help them fit finer hair. If you're looking for a versatile pack of hair ties for your toddler's fine hair and you might even want to use them for your own, then this is a great choice.
Conclusion
Which pack of hair ties you choose your child will depend on if you're looking for variety or style, but the options above at least all offer quality and a no-tug fit that prevents any hair damage or ouchies. Just make sure you pay attention to which ages they're recommended to.