The 5 Best Kids Basketball Hoops Reviewed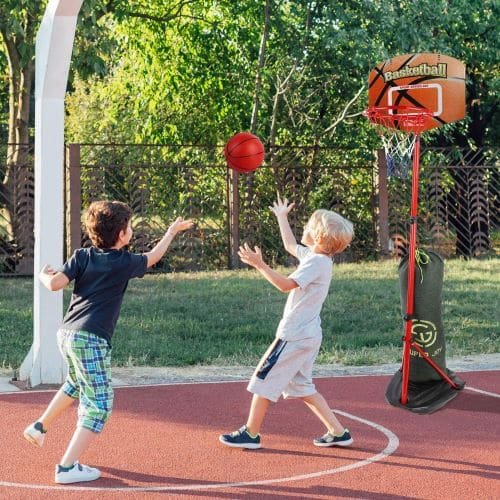 In the United States, it is estimated over 24 million people aged over 6 participate in the sport every year. The popularity of the sport comes down to easy to understand rules and the versatility of the game. Basketball can be played in indoor sports arenas, but also in the backyard, the playground, or really anywhere big enough for a hoop and a ball.
Basketball hoops are an excellent purchase for young players because they can practice on their own, or play with others. Basketball encourages children to keep fit while learning essential skills such as team building, hand-eye coordination, and balance. Basketball hoops are an excellent source of fun, whether indoors or out, and a fun way to entertain a child without sitting them in front of a screen for hours on end.
Whenever you purchase a basketball hoop, you should look for safety, durability, and adaptability. Taking all of these factors into account, here are five of the best kids basketball hoops on the market today.
Best Kids Basketball Hoops
Little Tikes have a fantastic reputation for creating fun and safe toys for younger aged children. The Little Tikes Easy Score Basketball Set comes ready to play with an adjustable hoop and three junior-sized basketballs. The bulky plastic finish means there are no sharp edges that could cut or scrape a young player. The hollow base can be filled with sand or water to keep it weighed down to prevent toppling.
The Little Tikes set is extremely affordable, especially when you consider the adjustable height means it can grow with your little one. The height varies from 2.5 to 4 feet, allowing you to get full use of the set from around 1 ½ to 5 years. Your children might not be the best shot at such an early age, but Little Tikes has thought that through with an oversized rim that helps the small balls fall through the net easily. Basketball is a brilliant game for helping children to develop core skills like coordination and balance while still having fun. Little Tikes set is a fab way to introduce the game to younger children and motivate them to practice those key skills. The six height settings also give you a lot of flexibility if you have more than one child in the family as the hoop can easily be brought up and down to suit the player.
Although SUPER JOY advertises their hoop for toddlers, the playing range is much bigger than that as it is designed for 3-8-year-olds. The height can be varied from 2.9 foot to 6.2 feet, which is incredibly impressive, especially when you consider the sliding pole system means it can be set to any height within that range. The tripod metal base creates a strong structure to ensure safety. The base can hold 1.3 gallons of sand and the SUPER JOY set comes with a prepared 50lbs sandbag for extra safety when the children are bigger and want to do some dunk shots.
SUPER JOY has made a basketball set that is easy to assemble and disassemble. The complete kit breaks down neatly, so it is fantastically portable. The portability is a great feature for any basketball enthusiast who can't go too long without bouncing a ball and taking a shot. The set can be used indoors or outdoors and has been designed to withstand sun and rain. The metal will not rust making it a great addition to the poolside, for children and adults alike. The ball is smaller than a standard basketball meaning it can fit in tiny hands and also has more chance of going through the net.
SUPER JOY makes great quality long-lasting products and the hoop is no different, but even if an accident did happen then they have prepared for that too. The basketball hoop comes with two nets as standard, in case one gets lost. There are also two basketballs included, meaning all is not lost if the ball ends up on your roof or in a neighbor's tree.
A special mention needs to be made for the attractive backboard that SUPER JOY has designed, it wouldn't look out of place in a professional game.
If you want your children to be motivated to stay active and enjoy sports, then this activity center is perfect for you. The basketball hoop is only one of the features that this set sports. You can also play soccer, golf, and hoopla. The set comes equipped with junior versions of a soccer ball, basketball, golf club, golf ball, and four hoopla rings. The versatility means that this center is ideal for children with a lot of interests. The clever 5 in 1 design means you have a lot of fun packed into one item, making it great for compact spaces like apartments or children's playrooms.
The activity center is really well made and can be easily set up in a few minutes with no tools needed. The hoop can be adjusted to five different height settings and the durable plastic means this activity center can be played with for years, as your child grows.
The design is eye-catching, with a UFO backboard and goalposts in the shape of a friendly-looking alien. The soft pastel colors means it can fit in with most home decors while still appealing to the children.
Another lovely feature of the activity center is the addition of the storyteller bear which will play music and stories when pressed. This is an excellent addition for children who need a lot of stimulation and encourages them to continue actively playing for longer by holding their interest.
No products found.
The N/C Kids basketball hoop is super lightweight at just over 6lbs making it easy to assemble and transport. But do not be concerned because while the hoop might be light, it is not flimsy, and the sturdy metallic frame has a three-pronged base for additional stability. The base can also be filled with sand or water for additional stability during play. The thick backboard is robust and will withstand even the strongest throw of the basketball.
The N/C Kids Basketball Hoop starts at 2.8 feet tall but can be adjusted between four different settings to a maximum height of 6.2 feet. This versatility means you can continue to develop your child's athletic ability by increasing the height, challenging your child to throw the ball higher and with more accuracy. The classic red, white, and blue design gives the hoop an old school gym feel, and the centerboard encourages better shooting with a small central target square.
N/C knows that safety is of paramount importance to parents, and that is why their hoop is guaranteed to be made from non-toxic harm-free materials. The set is fully tested and certified to meet the rigorous ASTM toy safety standards too.
The basket has been made to perfectly fit the junior size ball that comes with the set. The ball's lightweight design makes it a fantastic introductory ball for younger players with smaller hands.
The neat design means the N/C hoop is easily assembled and disassembled within a few minutes, so it can be easily stored during the colder months where it may be out of use. Alternatively, it is also capable of being used inside, so if you have an eager player who wants to train over the winter then this is still a possibility with the N/C Kid's Basketball Hoop.
Atlasonix is so confident in their products that they offer a lifetime guarantee, and with this cleverly designed basketball hoop, you might well use it for the rest of your life. The standout feature of the hoop is that once your child outgrows the stand, the backboard can be mounted onto an external wall or the door of your child's bedroom so that the play can continue. Your child won't outgrow the stand too soon though, with its variable height range.
The Atlsonix is designed as a lightweight portable hoop that can be taken to play parks or wherever you might want to play. All you need is access to water, and the base can be quickly weighed down to prevent injuries. The portability of the hoop is reflected in the streetwise design with the base resembling a car tire and the trendy urban style backboard.
The hoop is made from strong, durable materials that are non-toxic, with an excellent finish. The Atlasonix team wants you and your child to play straight away, so they have designed the hoop to be quick to set up and provided a pump and a ball, so once you're assembled and inflated, you can shoot the hoops instantly.
The Atlasonix can be used from 2 years and up meaning you get a lot of game life for the price of the product.