The 5 Best Playsets for Toddlers Reviewed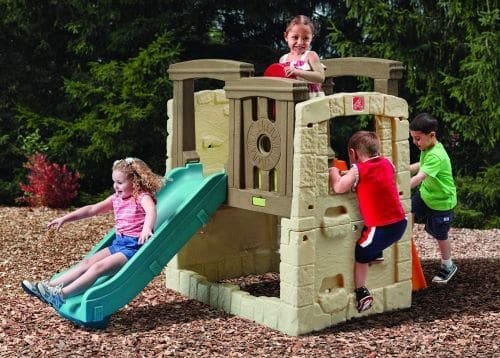 Playsets for toddlers are incredibly important to allow them to play and be physically active. Not only that, they are great for teaching a child cognitive skills.
Playing on a playset provides opportunities for toddlers to practice a range of social, emotional, physical, and mental skills. It gets their creative juices flowing as much as it builds their physical capabilities and strength.
Having a playset in the comfort of your own home also allows you to feel more relaxed when your toddlers are playing. They do not have anywhere to run off to, and if they need assistance or want to play with local friends, they can.
With there being an abundance of toddler playsets on the market, you may feel overwhelmed by choice. But don't worry, we have you covered with the best playsets on the market right now.
Best Playsets for Toddlers
Does your toddler love being outside in the woodlands? Well, you can bring the woods home with the Step2 Naturally Playful Woodland Climber II.
Its design is inspired by the woods, with neutral and natural coloring and textures. The frame is made entirely from durable, strong plastic that is double-walled and free from splinters for your toddler's protection.
Also, with its neutral color scheme and compact design, it will fit seamlessly into anyone's backyard.
It features two rock-like climbing walls, two steering wheels, and hiding places for your toddler to have endless fun. The various features allow your toddler to build their motor skills and increase their communication and role play capabilities.
Each feature works as a new challenge or route for your toddler to overcome. They have to evaluate where they are and where they should reach or step next, thus enhancing their critical thinking and improvisation skills.
Bring an ancient castle into your home with the likes of the Little Tikes 2-in-1 Castle Climber. This playset is ideal for toddlers who love a variety of climbing and playing, with multiple platforms and features.
Your toddler's imagination can run wild as the frame requires no additional assistance due to the front ramp so that they can climb safely and creatively.
Its frame is relatively sturdy, but for extra protection, it can be anchored down to the grass in your backyard.
Whether you have a small or large garden, this playset will fit nicely as it is only 6-feet long. It is very compact and easy to store away in the corner of your garden without the slide. You can keep the slide upright when the playset is not in use to maximize your garden space.
Overall, it is ideal for toddlers of all ages and abilities as it has a variety of features and is safe due to its materials and walls.
The Costzon Toddler Climber and Swing Set is a bright and colorful 4-in-1 playground with multiple features for toddlers to enjoy. It comes equipped with a slide, swing, basketball hoop, and a ring-toss attachment. The various elements are suitable in aiding a child's intellectual development.
Through the various activities, a toddler can build physical strength and improve decision-making.
Due to its variety of features, smooth materials, and ability to make it more compact, this playset can be used indoors or outdoors. It is easy to assemble and remove parts, which is excellent if you do not want it up inside all day long. All necessary hardware is included, so there are no complicated tools that are needed.
It is made from durable, environmentally-friendly, and non-toxic HDPE material that is safe for your toddler in case of a fall or slip. The playset and slide are also safe for babies to use as its smooth sliding material has no ridges or corners that can harm a baby's delicate skin. The slide can bear 110 lbs, so any small child is safe to play on it.
The climbing ladder that allows toddlers to climb on the top platform is secure with handles on either side so your child can play freely and safely.
There is also the option to have it as a 3-in-1 set that comes without the lapping elephant nose. It is also possible to have it with or without the bear design.
For parents looking for a much more compact playset for their toddler, the Step2 Play Ball Fun Climber With Slide is ideal. It boasts many fun features while being only four by 3 feet. This makes it easy to put inside or out.
It may be compact, but it is spacious enough for multiple children to play on at once. This means your toddler can have friends and family over to show off their new playset.
Although the frame is made from durable, smooth plastic and can withstand all weather, you may want it inside during the colder months so that your toddler can enjoy year-round fun.
The Fun Climber comes with a slide, ball pit, ball drop system, and under climber places to hide or sit.
The ball drop system is a feature that is not present on many other playsets. It is great for STEM learning as it provides repetitive movements that involve concepts of motion, force, gravity, and cause and effect. All of which are important for visual skills and memory.
Also, the ball drop system enhances your toddler's trial and error skills. During this exercise, they will learn how to contain the ball within their play space, which will improve hand-eye coordination and physical agility.
As much fun as the playset can provide, it also teaches your toddler to engage with and enhance their visual, physical, memory, and social skills.
The Little Tikes Activity Garden Playset is a playset full of activities and fun. It is designed to offer multi-functional training, from ball drop and peak-a-boo features—the play center is designed to stimulate and expand your child's creativity and cognitive skills.
Through various sounds and activities, your toddler can enhance their imagination and have great fun from playing the piano to receiving mail through the letterbox.
The set easily converts from a closed play center to an open, two-sided play center to grow with your child. So it is easy to change up the set depending on your child's preferences and favorite activities.
For example, you can remove specific panels and add spinning toys, thus convert them into something different. You can do so with the use of tools. Simply unclick and attach new features to cover the playset. There are endless possibilities.
Its features are designed to suit a child as young as six months, up to 3 years.
What To Look Out For When Purchasing A Toddler Playset
When you are on the hunt for a playset for your toddler, you will want to ensure it is ideal for your child's age. Not all playset will enhance your child's visual, cognitive, and physical skills. If you want a playset to offer fun and learning, ideally get a playset that is of the child's age or older.
If your child is young, you will want to make sure the set is completely safe and free from potential hazards, such as steep slides and ladders. Anything that poses a danger should be avoided. Certain features will be safe for older children as they will be aware of how to use them and their safety measures.
Another feature to consider is the material it is made from. The most common material is plastic, which is the safest and easier to assemble. There are some playsets made from wood, which we recommend avoiding due to the possibility of splinters.
Ensure the plastic is non-toxic, durable, and sturdy so that it can withstand your child's weight and playfulness.
All in all, you should make sure the playset is safe for your toddler's age and abilities. There are many great options you can find for a reasonable price. So no matter your budget or your toddler's interest, there will be a playset here to satisfy those needs.
For those of you who have older kids, you may want to consider building your own playset. Watch this video to see how a playset can be built: