The 5 Best Splash Pads for Toddlers Reviewed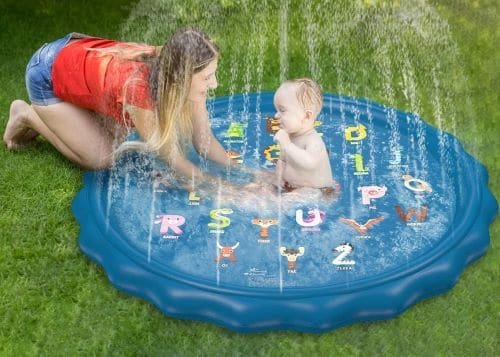 Splash pads are great fun for toddlers. The water feature can keep young children entertained for hours.
These water pads are a great alternative to swimming or paddling pools for small children as they aren't deep but still enough space to play.
They are affordable and easy to run, making them ideal for parents who need some relaxation time while they watch their toddlers play. We assume you are here to find some advice on the best splash pads to buy for toddlers. Don't worry, we have got you covered. Here are the best five.
Best Splash Pads for Toddlers
The SplashEX 3-in-1 Splash Pad is great for children of all ages. The features are ideal for keeping your toddler entertained while also learning.
Not only is the pad for splashing around on, but it is educational too. It offers an A to Z design on the mat's base, which can help your little one learn the alphabet while enjoying the water.
Any child from the age of 12 months and older can use this to escape from the summer heat. Use cool water to function the fountain sprinklers. These will splash your toddler and are designed to keep them cool as well as happy.
It is like a miniature water park. The diameter is 60 inches, which is plenty of space for any children to play around while learning the alphabet.
The SplashEZ brand uses BPA and phthalates-free materials, so the mat is safe for your toddler and will not harm their skin. Even the most sensitive or tender skin will be okay to use the mat.
The Soopotay Splash Pad is a fun feature for children of all ages. Its wading pool design makes it ideal and safe for toddlers.
Its design adds a fun element to the garden, with it being an octopus shape. The mat provides enough space for multiple children to play, with it being 68 inches in width safely. The sprinklers spray up to 1.2 meters in height, which is more than enough fun for any size child.
This splash pad adds a refreshing outdoor element to any outdoor space. It is easily transportable, so you can use it in your own garden or take it to a friend.
It is super easy to install and use. You simply lay the mat out, inflate its sides, plug it into a running hose, and you are good to go. To maximize the fun, you can add more water pressure. Simply turn up the pressure of the hose. For small children, it is best to keep the pressure to a minimum for their own safety.
Soopotay specifically ensures its pads are non-toxic PVC and tested for the safety of its users. So, it is safe for all ages to use under supervision.
If you want something a bit quirky and multi-functional for your toddler, the Baztoy Sprinkler Splash Pad is a great choice.
Not only is it an inflatable pad that sprays water for toddlers to splash around in. But, there is an inflatable octopus feature in the middle for added fun and purpose. Young children that are learning to walk can hold onto the inflatable octopus to help them stand up. If a child younger than two years old is playing on the pad, it is advised to ensure you are keeping a close eye on them. Although the mat is safe, excess water can cause a young child to slip.
The splash pads design features aquatic animals and the alphabet, which are great educational elements for toddlers to learn literacy.
Similar to other splash pads, it is easy to set up. You inflate the slides for extra safety when your child is playing. Then, you attach a running water pipe, and you are good to go.
Another great feature of this splash pad is that the mat is super soft, which means babies are safe to use it. The Baztoy Splash Pad can offer the whole family hours of summer fun.
No products found.
The Jasonwell Splash Pad Play Mat doubles up as a splash mat and baby pool. Inflate the sides for extra support and depth. It is enough water for baby's and toddler's to splash around in all summer long.
Of course, you can use the splash pad similar to others. It doesn't have to be used as a pool. Instead, you can use its sprinkler feature for your children to cool themselves down.
The Jasonwell brand also likes to promote education as well as fun. The mat is designed with the alphabet's animal-shaped letters, so your toddler can learn the A to Z while cooling down and enjoying the cool water on a hot day.
For extra fun, you can adjust the water pressure for higher sprinkling. Just ensure the O ring is placed in to avoid leaks, then plug to a garden hose or PVC tubing. The supportive side rim is inflatable; once air-is inflated, the sprinkler pool for toddlers can hold in water without having the hose on.
It is a great water feature to offer your toddler fun and education while allowing them to get used to shallow waters with its paddling pool design.
For endless family fun, the MAGIFIRE Splash Pad is big enough for multiple people. It's 68 inches wide to host your toddlers and their friends.
Have a summer party with this fun splash pad that features sprinklers and an animal-themed map of the world. Its vivid colors and patterns are there for visual design and to stimulate brain growth.
The entire pad is made of thick and durable BPA-free material, and is CPC certified. This ensures complete safety for children of any age.
Instead of having to head to waterparks every weekend, you can bring the waterpark to your backyard. Your toddlers can enjoy hours of fun splashing around while learning the different animals and colors.
MAGIFIRE offers all customers a three-month warranty, so if you are not completely satisfied with the product or need help, they can assist you.
Things To Look Out For When Buying A Splash Pad For Toddlers
Toddlers benefit from multi-purpose activities and toys. Thus, when purchasing a splash pad, look for pads that offer educational designs such as colors, animal prints, or the alphabet.
It is essential to make sure the materials are safe, soft and free from chemicals. Softer pads offer more support for young children, and the best materials keep your toddler safe.
To effectively run a splash pad, you will need a running garden hose. Ensure to safely fasten the hose to avoid leaks. The pads should come with O rings to secure the pipe.
For ultimate fun, you may want to buy a splash pad with a tall sprinkler height. This offers more splashing around and space for children to play.
Splash pads are a great garden feature for your toddlers and yourself to enjoy all summer long. Not only do they provide hours of fun splashing around, but they can also be educational and enhance your child's learning.