The 5 Best Water Mats for Babies Reviewed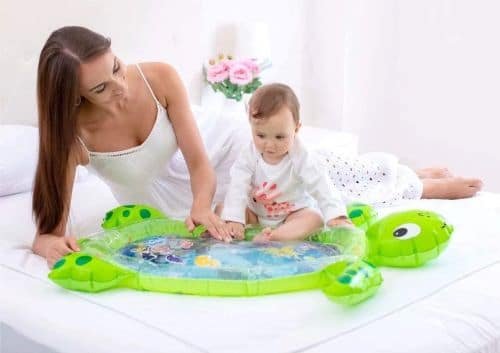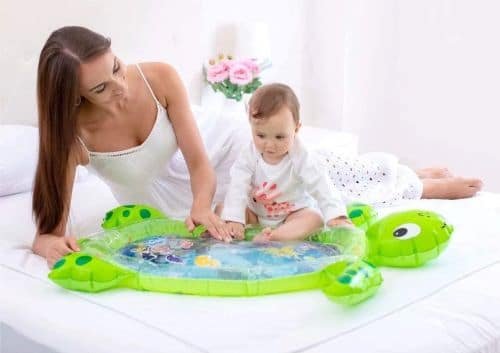 What are water mats for babies?
A baby water mat is a type of toy which is designed for sensory and physical play. These mats are filled with water and display an array of colorful underwater illustrations, shapes and toys, often including underwater creatures.
First, you inflate and fill your mat with water, and then your baby is free to play by laying and crawling on the mat. The majority of water mats only have water inside the mat, meaning there's no direct contact with water. Sometimes these toys are referred to as 'tummy time mats'. Tummy time means encouraging your baby to play while laying down on his or her stomach.
Why is tummy time important for babies?
Tummy time is important to allow babies to strengthen the muscles they need to lift up their heads, which eventually develops into sitting up, crawling, and then walking. The American Academy of Pediatrics recommends practicing tummy time for at least fifteen minutes each day.
Water mats for babies are incredibly beneficial to your child's development, both sensory and physical. With the help of these mats, your baby can practice tummy time and discover colors, shapes, and sea creatures. As well as learning through play, babies can strengthen the muscles in their neck, shoulders, arms, legs and more. For water play without the mess, you need a baby water mat! If you're looking to find the best water mats for babies, take a look at these five top picks.
Best Water Mats for Babies
Take your baby on a journey to the ocean, without ever leaving your living room! This beautiful mat will delight your baby, with its vivid patterns that float around the underwater world. Babies love to try and tap or catch the sea creatures as they drift through the mat, tummy time has never been more fun. The design features a colorful shipwreck to explore and plenty of cute characters to meet from the grinning shark to the wiggly octopus.
One of the best things about this baby water mat is the thick PVC fabric, as some thinner baby mats are prone to leakage. With a thickness of 0.35mm and strong internal seams, you can let your baby enjoy playtime, (without worrying about pesky holes in the mat).
Looking for a mat that's easy to take out and about? The iHaHa mat is super easy to carry and set up. When folded it's approximately iPad sized, so you can put it in your diaper bag no problem. You can set up this tummy time mat in minutes, simply inflate the outer ring, and fill up the inside with warm or cold water.
Crawling around on this baby water mat isn't just great fun, this tummy time mat will help your baby to build posture strength, endurance, and enhance their hand-eye coordination.
The LaLa Lou mat is a gorgeous pink and lilac flower-shaped mat. It features plenty of cute nature-themed designs, such as smiling flowers and sunshines and bright rainbows. Babies will go crazy for these colors, as they bat the bumblebee and explore the heart shapes with their fingers. You'll ensure that playtime is a real treat with this super cutesy water mat.
These mats are free from yucky chemicals and designed with earth-kind PVC too. LaLa Lou mats provides a leak-proof guarantee, your baby can play all day, and the water will stay safe inside the mat.
With a whopping 34inches of play mat to explore, you'll find that this a larger mat than many other brands on the market. With a bigger space to play, tummy time becomes more of a challenge, helping your baby to build their muscles, and improve their crawling in no time at all.
As your baby watches these cute toys float in the water, they'll practice cognitive thinking; learn about cause and effect; and improve their coordination.
Tummy time is so important to reach development milestones, strengthening the back, shoulders, neck, and preventing flat head. Many babies dislike tummy time, and so the great thing about this mat is that it's incredibly engaging. The huge flower shape and pretty colors will encourage curiosity in your baby, inviting them to explore. From it's large size to the beautiful design, it's considered one of the best water mats for babies.
Babies get super excited with this top pick, with colorful creatures everywhere you turn. Watch with delight as your baby chases the floating ducks, starfish, and lobsters, amongst this enchanting underwater scene.
When babies lack tummy time, this can lead to a delay in reaching key development milestones, whether rolling over, sitting, on lifting the head. The issue is, many babies hate being placed on their tummy to play. The Splashin Kids mat is so fun and intriguing for babies, that there'll be no more tears at tummy time!
Playtime on the Splashin Kids mat will build up your little ones' muscles, as well as enhancing their brain development. There's so much to learn here, from the colors of the creatures to the texture and sounds of the mat as they shuffle, crawl, and grab.
Rest assured this product is both Bpa free and environmentally friendly. The thick PVC will not leak, (and there's a money-back guarantee if you have any issues). This water play mat is suitable for ages 3 months + and is 26 inches wide by 20 inches tall.
Here your baby can play with colorful whales, fish, and octopus, without even getting wet! If your baby needs a little help learning to lift its head and crawl,, this mat is the perfect solution to engage them with tummy time. The environmental PVC material means you get a mat that's both sturdy and green. Watch as your baby becomes mesmerized by the swimming creatures.
The Airlab mat is a great tool for babies to experience sensory play. Sensory play is crucial to a baby's development because it encourages them to investigate and explore, whether it's sights, sounds, textures. As the shapes float inside the mat, your baby can practice observing and forming conclusions like, 'what happens if I grab that fish?' Activities like this help a baby's brain to form stronger connections with sensory information and learn which info is useful.
This eye-catching mat is very easy to set up, all you need to do is add water to the inside mat, and inflate the ring on the outer edge. Need to take the mat to a playdate? It's easy enough to roll or fold the mat to fit it inside a handbag. The mat is suitable for babies aged from 3 to 24 months old, it weighs 0.71lbs and is 26inches wide by 20 inches tall.
Babies just can't resist this giant turtle design water mat, your sweetie pie will just love splashing around with these colorful characters, from dolphins and ducks to fishes and mermaids. With so much to discover, your baby will enhance their visual-motor development and depth perception skills. Along the way, your baby will also develop their environmental awareness and sensory integration. All eight of the cute animals are color printed on both sides, helping to intrigue your baby as he/she bats them around.
The turtle is one of the largest water play mats you'll find on the market, at a huge 43 inches by 35inches. A larger mat means more space to play, improving those fine motor and physical strength skills at the same time. From the hands to the hips and the neck, your baby will work the muscles they need to improve their crawling. Does your baby experience tummy problems? Tummy time on a large mat like this can also help with constipation and gas issues.
Say goodbye to leaks with this updated screw cap, the PVC is 0.35mm thick and sturdy enough to prevent holes. For a tummy- tastic time, you can't go wrong with this beautiful turtle mat. With all these benefits and features this design is known as one of the best water mats for babies.
Choosing the right baby water mat for you
From sensory play to physical play, brain stimulation, and tummy time skills, there are so many benefits to using a baby water mat. Each of these five top picks has been thoroughly tested for safety and praised for the ability to keep babies fully engaged.
One of the biggest problems surrounding tummy time is that many babies don't enjoy it! Choosing one of the best baby water mats will help your baby to love playing on their tummy. All of these mats state a no-leak guarantee, and these retailers will provide refunds if you do get a hole or leak in your mat.
From oversized flowers and turtles to intriguing underwater worlds, you'll be sure to make tummy time more fun, with one of these lovely options.