What Are Manipulative Toys (Inc. Examples)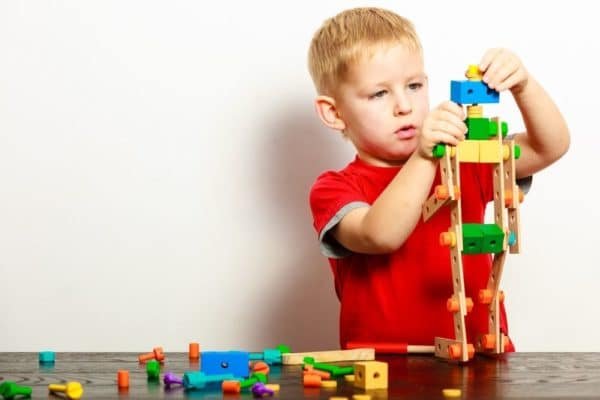 If you work in the care profession or are fascinated by childhood development because you're a parent, it's vital to understand how children learn.
Unlike animals, people aren't born with pre-set skills. All development happens through a process of learning, and we can help children by understanding what they need to facilitate such growth.
In the early years, children learn through play. In early education settings, you'll find a range of different toys designed to help children develop necessary skills they will carry into adulthood.
An example of such resources is manipulative toys, which are an important part of the curriculum for children. What are they specifically? How do they help ? What are some examples?
What are they?
The clues in the name. A manipulative toy is any toy that needs manipulation by tiny hands. Children use their hands to balance bricks, solve simple puzzles and construct small structures. Anything that requires handling and moving can be considered a manipulative toy.
How do they help?
Toys that promote reaching, grasping, and squeezing helps children develop their fine motor skills, which will help them in everyday life.
Manipulative play also helps children be creative, which is crucial to childhood learning. Children can use their imagination alongside developing problem-solving skills. This way, the child has fun during their early learning journey.
Arts and crafts have a twofold benefit in the world of childhood development; children are able to use their imagination to fuel their work at the same time as fine-tuning physical skills needed in all aspects of life.
Examples
Babies and toddlers learn how to handle objects through the reach, grasp, release method.
Providing children with pans or kitchen utensils will enable them to learn to pick up objects and carry them a short distance.
Stacking cups are also great for little ones, they learn how to balance and they can then enjoy knocking them down again.
The mini Tudou blocks are ideal for babies as they have no sharp edges and are easy to stack, providing hours of fun for tiny hands.
Finger isolation is important for children to master to enable them to use their fingers for intricate processes and delicate movements. Small babies tend to use their fingers and hands at the same time, but as they grow they need to master how to move fingers independently of each other.
The Brain Flakes set has interconnection plastic discs ideal for children from 3. The discs are simple to click together and come in a range of colors. With assistance, children can make no end of objects such as cars or trees.
It also comes with suggestions for small projects parents and children can work on together.
Bilateral skills are the development of using two hands to work together in tasks. This is where a child will discover which hand is dominant and which hand is the helper. Toys that require two hands are great to support this.
The wooden sorter game includes a small plastic tweezer that children use to place wooden bees into a round hole. This toy helps improve hand eye coordination as well as learning how to distinguish colors.
In addition, children learn simple math through counting. It's a fun little game and a must-have in the manipulative toy collection.
It's important for children to learn the pincer grasp before school age. This intricate movement is what enables people to hold a pencil, thread needles, and pick up small objects from surfaces.
The water beads consist of 3000 small beads and are ideal for older children to further develop the pincer grip and are also fun and engaging.
There is the option to make home decorations, identifying colors and counting.
They can also be used as a stress ball or worn as jewelry.
Construction toys are a valuable learning aid for small children and help build several skills at once. Mastering the arts of putting pieces together to make something helps children develop engineering skills, cognitive flexibility, creativity and spatial awareness.
They will also enjoy the satisfaction of creating something that replicates real life, such a car or building.
Picasso's tiles are useful learning aids as they are robust and easy to put together, but complex enough to be challenging to small children. Kids are able to learn about shapes and how they fit together, as well as colors and design.
Once children master the smaller projects they can create more complex structures which will give them confidence.
As children get older, they can further their learning by engaging in activities that help them actively build on their current skill set.
Object control skills can be challenging, so simple ball games such as catch or low-key football are ideal for them to practice coordination.
Large beach balls or soft balls can be used and parents or carers can assist them to facilitate practice.
A simple bowling set up is another activity that is ideal for children to learn object control. It's easy to organize with just a few plastic skittles and a large ball. You can even do it in the house if you have the room.
The Matty's toy set is a favorite with kids and parents alike, with bright colors and durable material. They are tall enough so small children won't find it too hard and come with 12 pins; great for a little family game of bowling.
There is no doubt that raising a child or working with children is rewarding. Watching tiny people learn about the world around them and how they fit into it is a fascinating endeavor.
Awareness of how manipulative toys help assist their learning will help you provide what they need moving forward and into adulthood.