What Is A STEM Kit? (And What Are STEM Toys)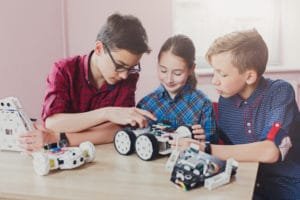 STEM kits and toys are all the rage at the moment – and not just with parents who are eager to see their children have fun and excel.
STEM kits can be incredibly engaging toys that can help to educate and teach children in a way that a black and white textbook just can't. It's all about true hands-on learning.
STEM activities are intended to draw a child into a task or project, seen through their eyes as a fun game, but all the while simultaneously educating them in what's traditionally viewed as the harder school subjects.
STEM activities are not just for boys, and most STEM kits are aimed at eager learners of every gender.
What is a STEM kit?
For those who don't already know, STEM stands for Science, Technology, Engineering, and Mathematics.
A STEM kit/toy/gift is any kit that can help children learn any of the fundamentals of these four subjects.
It does not necessarily have to teach something in all four of these areas, but you will often find that there are overlaps. For example, a STEM kit could require a child (and helper if necessary) to make something (engineering) that demonstrates an important scientific principle (science).
However, a STEM kit can come in all manner of shapes and forms, and it is not just one type of toy. In this article, we're going to be covering several different types of popular STEM kits.
Side Note – There are also such things as STEAM kits, and in this instance STEAM stands for Science, Technology, Engineering, Art, and Mathematics.
And the great thing about STEAM kits is that they can help kids who aren't too drawn to STEM subjects into learning about these subjects, thinking that they are working on an elaborate art project.
What Do STEM Toys Teach You?
As we have mentioned, a STEM toy or kit is any toy that teaches children about science, technology, engineering, and math. But really it can do more for a child than that…
If they were to work on a STEM project independently, it will foster their self-confidence, showing them that they can achieve things on their own, giving themselves a sense of accomplishment when a task or project is complete.
Or alternatively, working on a project with a helper or with a peer, teaches them about communication and teamwork. Important skills for their future, regardless of whether or not they will work in STEM jobs.
STEM activities can also help with establishing a can do attitude and encourage persevering until an objective is reached, since they often involve an element of building and creating, and overcoming obstacles.
And they can take time and effort to build, fostering such qualities as patience and diligence.
So although they are designed to teach four core subjects, their true benefits are far greater than that alone.
Different Types of STEM Kits
Before we go into any detail on the different types of STEM kits, it's important to note that STEM toys are not for just one age group only. You can often find STEM kits and toys aimed at children across all age groups and levels of ability.
The STEM kits of today often go beyond the science kits of yesteryear. Back in previous times, science toys usually came in the chemistry sets and microscope kits. But today's STEM kits come in all manner of different forms.
Let me show you some of my favorite examples!
Now, this is a great little STEM kit!
It's great for kids aged 8 to 10 and over, but younger kids may require some help from someone older.
It's a hands-on project that is designed to bring the concepts of robotics and physics to children. And they get to build a friendly looking solar-powered robot that actually moves and works. Learning all about solar energy, while also practicing their dexterity.
And this is a gift that never gets old. Because the robot does not just have one final form. Like the Transformer toy brand, this robot has many potential forms.
There's the zombie-bot, the slither-bot, the buggy-bot, the roly-poly bot, the puppy-bot, row-bot, turtle-bot, surf-bot, crab-bot, beetle-bot, quad bot, and walker-bot. Not bad, hey?
So, even when the kid has built the robot, that's definitely not the end of the fun. They get to take it apart and build a whole new robot several times over. And once they've mastered the techniques, just think of the bragging rights when they can do it all by themselves.
And all of these 12 different robots are made from the same 190 pieces, so this also teaches kids about resourcefulness, too.
Sale
Lucky Doug 12-in-1 STEM Solar Robot Kit Toys Gifts for Kids 8 9 10 11 12 13 Years Old, Educational Building Science Experiment Set Birthday for Kids Boys Girls
✅ 12-in-1 Stem Solar Robot Kits -This stem robotics kit for kids can build more than 12 different types of robots by yourself which helps children build a solid foundation in Science, Technology, Engineering and Mathematics at an early age. The parts can be easily disassembled after completion of one robot kit. stem projects for kids ages 8-12 12-14. science kits for kids age 8-12 12-14.
✅ Environment-friendly Powered by Solar - This stem building toys is powered by the sun and no batteries required. The robot can crawl, roll and float under the direct sunshine which allows children to understand the environmental concept of renewable technologies and renewable resources. gifts for 8 9 10 11 12 year old boys.
✅ Clear Instructions Make it Simpler - Don't worry that the assembly of the robot is too difficult for your child. It looks a little challenging to assemble it, but when you read the clear instructions, you will find it easy to follow it. We recommend that parents and children create the first solar robot together, which will make a lot of sense. stem toys for boys age 8-12 12-14.
✅ Safety First - Every single piece is made from BPA-free, non-toxic and skin-safe ABS plastic in order to keep your children safe which are facilitate early childhood progress and brain development so gift the kids a chance to grow up to become inspirational leaders of tomorrow.stem projects for kids ages 8-12 12-14.
✅ Create Your Own Robot - With an extensive set of 190 pieces, the options are endless! This stem robot kit for 8-12 year olds comes with all the parts you need to build a real working robot from scratch, from pistons and shafts to gears, tires, and more! Your little engineer can use their imagination to make his own original robot. stem toys for boys age 8-12 12-14.
If robotics sounds too advanced for your kid's age, how about something like this instead?
This small and affordable STEM kit contains four separate wooden construction projects for you kids to enjoy…
They can learn to assemble such things as a fun Ferris wheel, a carousel, a fiber optic lamp, or a sweet little night light lantern to really brighten up their bedroom and evoke a wondrous atmosphere.
The benefits of this kit are many-fold. In particular, it helps to strengthen their hand-eye coordination, but it also develops their spatial awareness, logical thinking and intellectual development.
It's a great kit for siblings to work on together, fostering qualities like cooperation and teamwork.
4 in 1 STEM Kits, Wooden Construction Science Kits, STEM Projects for Kids Ages 8-12, 3D Puzzles, DIY Educational Craft Building Toys, Christmas Birthday Gifts for Girls and Boys 8 9 10 11 12 Year Old
A Great Gift for Kids: This STEM kits comes with all of the parts you need to build a mini ferris wheel, carousel model, fiber optic lamp and star night light,these novelty toys are perfect for 8, 9, 10, 11, 12 year old girl gift ideas.
High Quality: These 3D wooden puzzles are made of safe, pollutant-free wood with precise laser pre-cut , the edges of each component have a smooth finish can be tightly integrated, easy to assemble. All parts are made of high-quality safe and recyclable materials.
Unique Design: The STEM projects for kids ages 8-12 can be painted and decorated to make them unique, and the finished craft are perfect for display on a table, shelf or showcase in a children's bedroom, playroom or study area.
Perfect Decoration: Special wooden star light and fiber optic light are equipped with colored LED lights, which can change and emit 7 different colors of light, creating a fairy-tale magic and fantasy for the room and outdoor activities, and creating a warm and elegant atmosphere.
Cultivate Creativity and Imagination: Amazing mini ferris wheels and carousels can actually rotate to create a miniature amusement park at home. By assembling this building kit, children can develop their hand - eye coordination, stimulate imagination and promote their physical and intellectual development.
Wrap Up
STEM toys are great – not only do they help to teach kids about the fundamentals of science, technology, engineering, and mathematics, but they can also help foster many great qualities that will help them in later life, regardless of the nature of their chosen career.
And they'll have a great time as they gain this knowledge and experience, since STEM toys can be very engaging and fill them with a sense of wonder and awe about the world around them. As well as helping them to make real memories that they can take with them forever.